Rocky Marciano Revisited
Rocky Marciano Revisited – Part One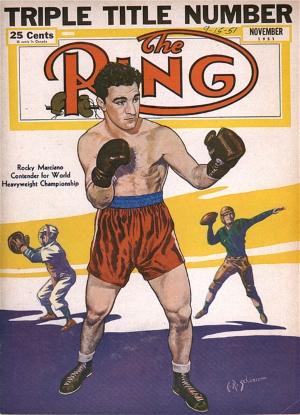 Rocky Marciano

By Thomas Hauser

Six decades ago, Rocky Marciano was on the verge of a celebrated reign at a time when the heavyweight championship of the world was the most exalted title in sports.

Marciano's image has grown hazy with the passage of time. In part, that's because there's very little good writing to explain what he stood for and how exciting he was in the ring.

Rocky Marciano: The Rock of His Times by Russell Sullivan (University of Illinois Press, 2002) is widely regarded as the definitive Marciano biography, and deservedly so. It's well-written, meticulously researched, and unquestionably the best work on its subject.

A. J. Liebling fashioned six essays about Marciano for The New Yorker that captured Marciano in his prime. And long after Marciano's death, William Nack wrote a penetrating article for Sports Illustrated that shed light on some of the less desirable facets of the man.

Beyond that, the scholarship is thin. Still, reading the public record and talking with people who knew Marciano, one comes to understand what he accomplished and represented at a time when boxing was second only to baseball as America's most popular professional spectator sport.

Rocco Marchegiano was born in Brockton, Massachusetts, on September 1, 1923. Both of his parents emigrated from Italy to the United States in the second decade of the twentieth century. Pierino Marchegiano was a slightly-built man; five-feet-eight-inches tall, 130 pounds. Pasqualena Marchegiano was a large woman who outweighed her husband by seventy pounds.

Brockton was a working-class town twenty miles south of Boston. Pierino worked in a shoe factory. The Marchegiano's first child died in infancy. Rocco was the second, followed by three daughters and two more sons. The Marchegianos lived in a two bedroom apartment with no running hot water or central heat. They were poor and the Great Depression made them poorer.

Rocco dropped out of high school at age seventeen; well short of earning his degree. "I was never good in school," he acknowledged later. "I just didn't care for the books." Over the next three years, he drifted from menial job to menial job; delivering coal, digging ditches, and working in the same shoe factory as his father. He washed dishes, did landscape work, delivered beer, and put in a stint as a short-order cook. On March 4, 1943, he was drafted into the United States Army.

Marchegiano was stationed in Europe for two years during World War II; then in Tacoma, Washington. His first exposure to organized boxing came in 1945, when he entered several Army tournaments. He was discharged from the service in December 1946 and took a job with the Brockton Gas Company, shoveling coal and stoking furnaces for a dollar an hour.

On March 17, 1947, in need of money, Marchegiano fought in the opening bout of a professional fight card in Holyoke, Massachusetts. It wasn't until late in his career that the fight became part of his public record. He fought it under the name of "Rocky Mack" in order to maintain his amateur standing.

The opponent, also making his pro debut, was a local fighter named Lee Epperson, who had a good amateur pedigree. For the first two rounds, Epperson outboxed his opponent, who took punch after punch and kept throwing wild haymakers that missed the more experienced fighter by an embarrassingly wide margin. In round three, a right uppercut landed and knocked Epperson out.

Marchegiano had been promised fifty dollars for the fight. The promoter gave him thirty-five.

One month later, a dream that Marchegiano had nursed since childhood came to an end. Growing up, he had started at center and linebacker in football for Brockton High School. But his true love was baseball. For four years, he'd played catcher for a local American Legion team. He was good.

But not good enough. In April 1947, the Chicago Cubs invited Marchegiano to a tryout. However, he failed to impress and the team decided against offering him a minor league contract. It was then that he turned to boxing.

"If I go into the ring, I might amount to something," he told his fiancée Barbara Cousins. "If I don't, what will I do the rest of my life? Dig Ditches?"

Years later, he elaborated on that theme, saying, "My father never made any money and he never had any fun. He was only existing. I saw what the factory did to my father and I didn't want it to happen to me."

During the next year, Marchegiano kept his job with the Brockton Gas Company and had about thirty amateur fights. He was an unskilled boxer and blocked too many punches with his face. But he absorbed everything that opponents threw and moved inexorably forward, swinging wildly until his own sledge-hammer blows landed. He lost four times, but won several regional Golden Gloves and Amateur Athletic Union titles.

In June 1948, Marchegiano traveled to New York for a meeting that would change his life. He wanted to resume his professional ring career and had been told that a New-York-based manager could do more for him than one in New England. Armed with that advice, he sought out Al Weill.

"Weill was very much disliked by decent people," Jerry Izenberg (the dean of American sportswriters) recalls. "He was manipulative, rude, and arrogant, but also well-connected."

"Crude" and "abrasive" were also often affixed to Weill's name. But he was a brilliant judge of talent who, before putting two fighters in the ring, knew how entertaining their encounter was likely to be and, regardless of their records, who would win. He understood the business of boxing and had alliances with facilitators at every level. He was, in Liebling's words, "one of the most realistic fellows in a milieu where illusions are few."

Weill was also a dictator at heart and insisted on complete control over his fighters. "He gave them the proposition when he met them," syndicated columnist Jimmy Cannon wrote. "They would fight with their bodies, and he would think for them with his mind. They could not argue. He would not tolerate any opinions from them."

Later, Weill would say of his relationship with Marchegiano, "I declared myself right away. I said, 'You got your job and I got mine. You got all you can do to stay in condition and train for fights. I handle everything else.'"

Indeed, when Rocco Marchegiano wanted to marry Barbara Cousins, Weill told him, "Wives hurt fighters. When it's right for you to marry, I'll tell you." That put the impending marriage on hold for two years.

Weill had previously guided Lew Ambers, Joey Archibald, and Marty Servo to world titles. In each instance, the trainer who prepared them for battle was Charley Goldman.

A former fighter who'd retired in 1914, Goldman was often described as "gnomelike" and stood just over five feet tall. A fount of Runyanesque wisdom ("never buy anything on the street; especially diamonds"), he was a strict proponent of clean living, proper diet, and hard work in the gym.

Goldman was widely regarded as an honorable man and as popular in boxing circles as Weill was disliked. The only complaint with regard to his character concerned his frugal (some said "miserly") ways. Once, when asked what he did on dates, Charley answered, "I usually take them to the fights. I get free passes."

The history of boxing turned a page in June 1948 when Marchegiano appeared in Al Weill's office. Weill telephoned Goldman and told him to set up a sparring session so they could gauge Rocco's potential. Later that day, Marchegiano stepped into the ring at a CYO gym on 17th Street in Manhattan with a heavyweight from Florida named Wade Chancey.

Marchegiano didn't look like a professional fighter. He was short for a heavyweight; five feet ten inches tall. His hands were huge, but he had stubby arms that would make it difficult for him to develop an effective jab.

A. J. Liebling later likened what Weill and Goldman saw to "the understander in the nine-man pyramid of a troupe of Arab acrobats. He has big calves," Liebling wrote. "Forearms, wrists, and a neck so thick that it minimizes the span of his shoulders. He is neither tall nor heavy for a heavyweight, but gives the impression of bigness when you are close to him. His face, like his body, is craggy. Big jaw, big nose askew from punching, high cheekbones; and almost always when he is outside the ring, a pleasant asymetrical grin."

Marchegiano was also two months shy of his twenty-fifth birthday; old for a novice fighter.

"Al and I often looked over green kids who thought they could become fighters," Goldman reminisced years later. "I'll eat my derby hat if I ever saw anyone cruder than Rocky. He was so awkward that we stood there and laughed. He didn't stand right. He didn't throw a punch right. He didn't block right. He didn't do anything right. Then he hit Chancey with a roundhouse right which nearly put a hole in the guy's head, and I told Weill that maybe I could do something with him."

"Charley Goldman," Michael Silver later wrote, "found a block of marble and sculpted it into The Pieta."

Marchegiano entered the ring as a professional for the second time on July 12, 1948. The site was Providence, Rhode Island; twenty-five miles from Brockton. The opponent was Harry Belzarian. Marciano won on a first-round knockout. His purse was forty dollars.

Years later, Belzarian recalled, "The first time he knocked me down, he broke my tooth. Then he knocked me down again. Then I don't remember anything."

Soon after, at Weill's suggestion, Marchegiano changed his name to Rocky Marciano. But Weill wasn't sold yet on his new fighter. He was using him to test other prospects.

On August 23, 1948, in his fifth professional fight, Marciano fought a 15-0-1 heavyweight named Eddie Ross. Rocky was the "opponent" that night. Prior to fighting Ross, Marciano had traveled from Brockton to New York to train occasionally with Goldman, but the trainer hadn't attended his fights.

Marciano knocked Ross out at 1:03 of the first round. Seven days later, when Marciano fought Jimmy Weeks in Providence, Goldman was in his corner.

Marciano fought eleven times during the last six months of 1948, scoring eight first-round knockouts and two in the second stanza. One opponent made it into the third round.

Rather than work with the fighter at Stillman's Gym (which was a hub of boxing commerce in New York), Goldman continued to sculpt his creation at the CYO gym on 17th Street.

Marciano had poor balance, minimal defense, and little understanding of how to throw a jab or hook. Goldman taught him how to stand properly for balance and maximum leverage on his punches. Turning Marciano's lack of height into an advantage, he taught him to fight from a crouch, which made him harder to hit and forced opponents to lower their hands to hit him. He taught him the rudiments of defense and schooled him to go to the body.

"You got to realize," Goldman said later, "when I took him over, he didn't know what a body punch was. In the first ten fights I handled him, he didn't throw a single one. Some of those early fights when he didn't know how to fight; he won them all, but I was afraid he'd get killed."

But Marciano had a great equalizer; his right hand. Goldman gave him just enough moves and enough of a jab to get inside and use it.

"I got a guy who's short, stoop-shouldered, and balding with two left feet," the trainer said. "They all look better than he does as far as the moves are concerned. But they don't look so good on the canvas. God, how he can punch."

Marciano began 1949 with four consecutive knockouts. Then
circumstances changed. The International Boxing Club was the dominant promotional power in boxing. It controlled the sport at Madison Square Garden and other major arenas. It had contracts for regularly-scheduled fights on the emerging medium of television. And it had links to organized crime; most notably through Frankie Carbo.
"Carbo," Russell Sullivan explains, "established a well-organized centralized system of control over boxing. The system featured scores of managers who operated as front men for Carbo. Once a promising fighter arrived on the scene, one of Carbo's managers would muscle in on his ownership. If a fighter or manager refused to play ball, he would be frozen out of quality fights; if he were lucky. Fear and violence were the linchpins of Carbo's system and the bedrock of his power. Directly or indirectly, he controlled scores of judges, officials, managers, promoters, and fighters. His power became such that no big match was made or title awarded without his acquiescence."
Teddy Brenner, who worked for Al Weill in the late-1940s and subsequently became president of Madison Square Garden Boxing, later acknowledged, "Carbo had his fingers on the throat of boxing. If he did not own a certain fighter, he owned the manager. Weill was a boxing politician who held hands with the mob. When Weill was Marciano's manager, he was controlled by Carbo."
In May 1949, Weill became the matchmaker for the International Boxing Club. That meant Marciano could fight against carefully chosen opponents when and where Weill wanted. It also meant that, technically, Weill could no longer manage Marciano, since many state athletic commissions had a conflict-of-interest rule that precluded a matchmaker from managing a fighter. Hence, Weill's stepson, Marty Weill (who had a job-lot commission business in Ohio and knew next-to-nothing about boxing) became Marciano's manager of record.
Marciano wasn't the first fighter to be moved by people of influence. Nor will he be the last. But as 1949 progressed, there was the smell of something more.
On October 10th, the Brockton Blockbuster stepped into the ring in Providence to fight a journeyman named Ted Lowry. Marciano was 20-and-0 with 19 knockouts. Lowry was tough as nails. In 115 fights, he'd been stopped only once. But his record was 58 wins against 48 losses with 9 draws, and he'd lost seven fights in a row.
Lowry hurt Marciano badly in the first, second, and fourth rounds. Each time, he let Marciano off the hook. Many observers including the referee (who warned Lowry for non-aggression late in the fight) thought that he could have done more to win. Even then, the overwhelming majority of people who saw the fight thought that Lowry was the better man over the course of ten rounds. The judges ruled otherwise.
On December 2, 1949, Marciano fought in New York for the first time on the undercard of a heavyweight match-up between Roland LaStarza and Cesar Brion. He won, knocking out an overmatched Pat Richards in the second round.
Four week later, he was back at the Garden to take on Carmine Vingo, a 20-year-old New Yorker with 16 wins in 17 fights. It was a knockdown drag-out brawl with Marciano badly staggered on several occasions and Vingo knocked down three times. The final knockdown, in round six, left Vingo unconscious and in a coma that lasted for several days. He survived but never fought again.
Marciano fought thirteen times in 1949 and ended the year with a 25-and-0 record. On March 24, 1950, he returned to Madison Square Garden to face another New Yorker, Roland LaStarza.
LaStarza was undefeated in 37 bouts. It was Marciano's first "big fight" and his inaugural appearance on television. After ten rounds, the visitor from Brockton was awarded a ten-round split decision. Afterward, Jesse Abramson of the
New York Herald Tribune
wrote, "It was a gift, almost universally condemned around ringside as a miscarriage of justice."
After the LaStarza fight, Marciano returned to New England to further build his record and improve his skills. During the next fifteen months, he had nine bouts against mediocre opponents and ran his record to 35-and-0. On July 12, 1951, he returned to the spotlight against Rex Layne at Madison Square Garden.
Layne was 23 years old and had lost only once in 37 fights. More significantly, he'd beaten Bob Satterfield and Jersey Joe Walcott. For the first time in his career, Marciano entered the ring as an underdog. He annihilated Layne, knocking him out in the sixth round. Afterward, Layne recalled, "I was on my face. I heard the count from one to ten. I kept telling myself that I had to get up, but I couldn't move. I couldn't make myself move. It was the strangest feeling."
The fistic community was becoming more interested in Marciano. But there were a lot of critics. Sullivan notes, "This was an era in which boxing men were concerned with style. The great champions of the day - Joe Louis, Willie Pep, and especially the great Sugar Ray Robinson - were supreme stylists; boxers who not only won but also won pretty. Rocky Marciano won ugly. To purists, he degraded the art and science of boxing. Nearly everyone in fight circles felt that Marciano's clumsiness would hinder his climb up the heavyweight ladder. They theorized that he would lose, and perhaps lose badly, if he met an accomplished craftsman such as Ezzard Charles or Jersey Joe Walcott."
Charley Goldman didn't argue with the critics. Instead, he explained, "The great thing about this kid is he's got leverage. He had leverage from the start. And when you teach a fellow like that, you have to go slow because you might change the way he stands or the way he moves and spoil his hitting. Everything new you show him, you have to ask, 'Does it feel natural? Can you hit from there?' We'll teach him the tricks he doesn't know. We've got to polish him up, but then it's up to him. Either he has it or he hasn't."
Bottom line: Whatever way gets results is the right way. Goldman and Marciano were getting results.
Marciano was small for a heavyweight, but he beat men down. He moved forward with a will of iron, arms pounding, throwing punches from every angle, anxious to make contact with any part of his opponent's body to see which of them could give and take more pain. He had to get close to be effective and he was willing to take the punches to do it. He applied non-stop pressure, banging and banging from the opening bell until the end of a fight.
A fighter who comes forward all the time no matter what his opponent throws at him is hard to beat. And every punch that Marciano threw was a knockout punch. "Whenever he hit you, wherever he hit you, he hurt you," Keene Simmons (an eighth-round knockout victim) said.
Boxing is entertainment. Regardless of what the purists thought, more and more fans were coming to appreciate Marciano's wild brawling hit-and-get-hit style. He went for broke with virtually every punch. He could be losing. Round after round, his opponent might outbox him. Then – BOOM!
When an opponent was hurt, Marciano finished him off.
And there was another factor that contributed to Marciano's appeal. He wasn't marketed as a great white hope, but he didn't have to be. The issue was in the back of the public's collective mind.
Writing about the period after Marciano's knockout victory over Rex Layne, Sullivan notes, "The fact that Marciano was white facilitated construction of his positive image in the mainstream press. A slew of articles appeared in such general-interest magazines as
Life, Look
, and the
Saturday Evening Post
, helping kick-start an all-American boy image that would make him the symbol of his age. The general tone of the coverage Marciano received was far more 'up close and personal' than that of his black challengers. Part of this was due to Marciano's friendly engaging manner, which encouraged such an approach. It was also due to the fact that white sportswriters wanted to get up close and personal with the white fighter."
Then came the inevitable confrontation: Rocky Marciano vs. Joe Louis at Madison Square Garden on October 26, 1951.
Louis had reigned as heavyweight champion longer than any man ever; from 1937 through his retirement in 1949. He came back a year later and lost a fifteen-round decision to Ezzard Charles, but scored eight consecutive triumphs thereafter.
Louis-Marciano made sense for both men. Louis, because he needed the money; Marciano, because the Brown Bomber represented both a paycheck and a stepping stone.
The former champion was three inches taller (6'1") and twenty-five pounds heavier (212) than Marciano. Louis been the betting favorite every time he stepped into the ring as a professional, and this time was no different. The odds were 7-to-5; largely because of Joe's advantage in height, weight, reach, and technical skills and because he was Joe Louis. But those were the shortest odds ever in his favor.
More significantly; Louis was thirty-seven years old. Putting matters in perspective; his last fight prior to retiring had been an eleventh-round knockout of Jersey Joe Walcott on June 25, 1948. Marciano had engaged in one professional fight (under the name "Rocky Mack") up until that time.
Marciano was on edge in the days leading up to the fight. In response to a reporter's inquiry as to whether he thought he'd win, he snapped, "That was a fucking dumb question. If I didn't think I was gonna win, why the hell would I be fighting?"
Asked if he might choke, he answered, "When I was discharged from the army, I started fighting because I hated the jobs I had before I went into the service. I'm afraid of having to go back and doing some of those same things if I lose to Louis. I'm not going to choke."
The fight was scheduled for ten rounds.
"I remember standing in the ring and thinking how big Louis was," Marciano reminisced years later. "I had never remembered Louis being such a big guy. The top of my head seemed to just about reach the bottom of his chin."
Seconds before the bell for round one rang, Charley Goldman told his fighter, "Make it a short fight. At my age, I can't be running up and down them steps all night."
In round one, Marciano staggered Louis with an overhand right. Then Louis took over with his jab. But by round five, Joe was tiring. Marciano's constant aggression was wearing him down. A punch under the heart in round five made the former champion gasp. His legs deserted him. His power was gone.
Marciano knocked him out in the eighth round.
"I saw the right hand coming, but I couldn't do anything about it," Louis said in his dressing room after the fight. "I was awfully tired. I'm too old, I guess. What's the use of crying. The better man won."
Beating Joe Louis gave Marciano widespread recognition. It was Joe Louis. And the fight had been on national television (not just on the east coast as was the case with Marciano-LaStarza).
There were still critics. Harry LeDuc of the
Detroit News
opined, "Marciano's ring ability is without relation to the science of boxing. The execution was a success, but the executioner lacked finesse." Arthur Daley of the
New York Times
wrote, "Louis losing is more important than Marciano winning."
In response, Goldman countered, "They call him crude because he misses a lot of punches. But it's his style. Most fighters Rocky's age are as good as they'll ever be. Rocky only has about three year's real experience, so he's still learning."
And Joe Louis paid tribute to his conqueror, saying, "He was tough, real tough. He's a good fighter; better than most people realize."
After beating Louis, Marciano took a step backward. In a February 13, 1952, bout against Lee Savold in Philadelphia; he looked wild and amateurish. Meanwhile, Savold fought like he didn't want to. After six rounds, the pacifist's corner stopped the contest.
The poor showing led to Marciano being sent back to Providence for fights against Gino Buonvino and Bernie Reynolds, who he disposed of in two and three rounds respectively. Then he returned to New York and looked good, knocking out Harry Matthews (who had won fifty fights in a row) in two rounds at Yankee Stadium.
Charley Goldman now considered his charge ready to fight for the heavyweight championship of the world. That meant facing Jersey Joe Walcott.
Walcott claimed to be 38 years old. There was a school of thought that he was older. He'd gotten his first shot at the brass ring on December 5, 1947, when he challenged an aging Joe Louis for the heavyweight crown. Most observers felt that Walcott won. So did Louis, who'd been knocked down twice and started to leave the ring before the result was announced, only to learn that he was the beneficiary of a dubious split decision. Six months later, they fought again. Trailing on two of the three judges' scorecards, Louis knocked Walcott out in the eleventh round. Then the Brown Bomber announced his retirement from boxing.
On June 22, 1949, Walcott got a third crack at the heavyweight title when he fought Ezzard Charles for the vacant throne and lost a fifteen-round decision. With no opposition of note on the horizon, Charles battled Walcott again on March 7, 1951 and beat him again.
Walcott was now 0-and-4 in title fights. But on July 18, 1951, Charles pushed his luck against Walcott one fight too many. Walcott knocked him out in the seventh round to become what
Life
magazine called "the oldest and most implausible heavyweight champion of the world."
Jersey Joe had one title defense; a fifteen-round decision victory in a rematch against Charles. Then he signed to fight Marciano.
Prior to the fight, Walcott belittled his challenger. "Marciano is an amateur," the champion proclaimed. "He wouldn't have qualified for Joe Louis's bum of the month tour. I guess he can punch, but he's got two left feet. He can't box a little bit. I've never seen anybody easier to hit. If I can't beat this bum, take my name off the record books."
One side issue of note attended the fight. Al Weill had become so obvious about still controlling Marciano through his stepson that the New York State Athletic Commission ordered him to relinquish his job as matchmaker for the International Boxing Club or forfeit his financial interest in the fighter. On September 1, 1952 (twenty-two days before Walcott-Marciano) Weill gave up his role with the IBC.
On September 23, 1952, Rocky Marciano stepped into the ring at Municipal Stadium in Philadelphia to do battle for the heavyweight championship of the world. He was an 8-to-5 favorite; largely because the public didn't think much of Walcott. Forty thousand fans were in attendance. Another 140,000 watched the bout on closed-circuit television, which was available in thirty-one cities nationwide.
In round one, Walcott dropped Marciano with a left hook to the jaw. It was the first time in his professional career that Marciano had been on the canvas. He rose at the count of four and came forward as he'd always done, throwing bombs. An accidental head butt in round six opened cuts on both men, but Marciano appeared to be in command. Then, in round seven, he began having trouble seeing. An astringent of some sort had found its way into his eyes and was obscuring his vision.
After the seventh and eighth rounds, cutman Freddie Brown took a sponge and doused Marciano's eyes with water. In round nine, his vision began to clear.
"The lead had changed hands three times," A. J. Liebling wrote. "You don't see many fights like that. In the tenth, which was the hardest-fought round of all, Marciano stayed on top. But somehow, the calculations had gone awry. The old fellow looked further from collapse now than he had six rounds earlier."
Sullivan picks up the action: "Halfway through the eleventh, his best round of the fight, Walcott hit Marciano with a ferocious right under the heart that bent the challenger over and made him visibly wince. Some felt that only the bell saved the sagging challenger from being knocked out. It was more of the same in the twelfth, with Walcott pounding Marciano and in complete command."
Walcott was now well ahead on the judges' scorecards and dominating the fight. Marciano needed a knockout to win.
Thirty seconds into the thirteenth round, Marciano backed Walcott into the ropes.
Both men threw perfectly-leveraged right hands at the same time.
Marciano's landed. It was a perfect punch; the most devastating in boxing lore.
"Walcott froze, paralyzed," Sullivan recounts. "His eyes glazed over, his legs turned to jelly, and he began a slow-motion collapse."
The blow, Liebling observed, "traveled at most twelve inches, straight across his chest to the champion's jaw. It was about as hard as anybody ever hit anybody. Walcott flowed down like flour out of a chute. He didn't seem to have a bone in his body."
"I don't remember anything," the dethroned champion said in his dressing room after the fight. "I don't know if it was a right or a left. I wasn't tired; I felt good; I was setting my own pace. Then - BANG! It hit me. I still don't know what hit me. I couldn't even try to get up."
Rocky Marciano was the heavyweight champion of the world.
PART TWO OF ROCKY MARCIANO REVISITED WILL APPEAR LATER THIS MONTH
Thomas Hauser can be reached by email at thauser@rcn.com. His most recent book ("Waiting For Carver Boyd") was published last month by JR Books. Hauser describes Waiting for Carver Boyd as "the best pure boxing writing I've ever done."


* Read "Rocky Marciano Revisited – Part Two" by Thomas Hauser - CLICK HERE!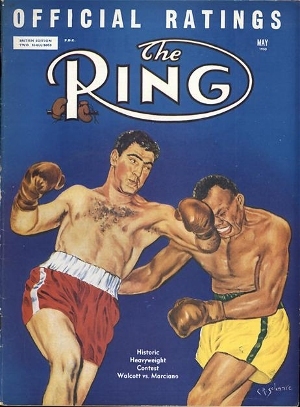 By Thomas Hauser

History's most celebrated heavyweight champions reflected the eras in which they reigned. Jack Dempsey personified the Roaring '20s. Joe Louis was perfectly juxtaposed with the trials of The Great Depression and World War II. Muhammad Ali was inextricably intertwined with the turmoil of the 1960s.

Rocky Marciano mirrored the simple optimism of the 1950s. The Great Depression was over. World War II had been won. The economy was booming and America's suburbs were growing. All things seemed possible.

Boxing was second only to baseball as America's most popular professional sport. The National Football League and National Basketball Association had yet to make significant inroads with the American public. Television, which was was still in its infancy, was becoming a significant cultural factor. And the sweet science was ideal for small-screen sports programming. All the action took place in an enclosure that was roughly twenty feet squared.

Meanwhile, baseball's old guard was changing. Joe DiMaggio was gone. Mickey Mantle and Willie Mays had yet to establish themselves. Among the gods of sports, only Ted Williams and perhaps Stan Musial rivaled Marciano in status. Williams who was baseball's most honored player, called the heavyweight championship "the most coveted prize in sports."

To some fans, Marciano symbolized the restoration of boxing's white monarchy after the reigns of Joe Louis, Ezzard Charles, and Jersey Joe Walcott. More significantly, he was embedded in the consciousness of Italian-Americans in the same way that Joe Louis lived in the hearts of his people.

Italian-American had few heroes on a national scale. Fiorello LaGuardia had been elected mayor of New York in 1933, but his brethren were largely excluded from the high councils of political power. It wasn't until Lyndon Johnson designated Anthony Celebrezze as Secretary of Health, Education, and Welfare in the mid-1960s that an Italian-American served in the president's cabinet.

Angelo Bertelli starred on the gridiron for Notre Dame. Hank Lusetti excelled in basketball for Stanford. And of course, there was Joe DiMaggio. But the sport that was most open to Italian-Americans was boxing.

There had been an Italian heavyweight champion before Marciano. But Primo Carnera, who wore the crown for less than a year in the mid-1930s, was mob-controlled; many of his fights were fixed; and there came a time when the public knew it.

Marciano was for real. And to the Italian-American community, he was "one of us."

Joe DiMaggio had a passport to a higher level of society. DiMaggio was the essence of style and grace, but DiMaggio was aloof. He gave the impression of being above it all and on a level that other Italian-Americans could never reach. DiMaggio married Marilyn Monroe. Marilyn Monroe would not have married Rocky Marciano.

The morning after Marciano beat Jersey Joe Walcott, he made a promise to himself. "When you're the heavyweight champion of the world, you represent boxing," he said later. "I made up my mind that I would never do anything to disgrace the title."

Thereafter, Marciano spoke on many occasions about what being champion meant to him: "When I fought Joe Louis, I thought it was the biggest thing of my life. But a bigger thing came along the night I fought Walcott for the title. That made the difference; the title." . . . "Being champion is a thrill. I haven't been champion for long, but it does something to a guy. It makes you surer of yourself, gives you more confidence. It's got everything any guy would want." . . . "Being champion is everything. You lose the title and you lose people's respect and admiration and, of course, you lose money. It would hurt a lot to find a guy who could lick me." . . . "What could be better than walking down any street in any city and knowing you're the heavyweight champion of the world?"

Marciano seemed to be a man without artifice who the average person could identify with and understand. People liked him. Even Roland LaStarza, who lost to him twice, said, "The man was a nice guy."

And as Sullivan notes, "This was an era when sportswriters sought to lionize the athletes they covered. Marciano wasn't placed under a microscope, nor was he subjected to the type of prying coverage that might have unearthed his flaws. Instead, he benefited from the journalistic canons of the day and acquired an image that was more super-human than human."

"Marciano," Sullivan elaborates, "had various character flaws, but sportswriters tended to gloss over them, adhering to the credo of accentuating the positive and eliminating the negative. Much of his image was grounded in fact. He really was good to his parents. He was extremely loyal. He respected authority. He was as patriotic as the next man. From outward appearances, he appeared to take his faith seriously. He didn't drink or smoke. Clearly, no one worked harder. Modest, friendly, and likable; Marciano was all of those things. What he did not have enough of, the image-makers embellished. What he did not have at all, they made up. And what he had that did not fit the ideal, they omitted."

Arthur Daley called Marciano "a righteous and truly wonderful guy." Jimmy Cannon referenced him as "a kind and decent man." Shirley Povich of the Washington Postlabeled the champion "the All-American boy of the heavyweights."

Ed Fitzgerald wrote in Sport magazine, "Rocky is a neighborhood kid who married a neighborhood girl and thinks the old hometown is the greatest place in the world. His social activities are confined largely to entertaining friends and relatives at home or making the rounds of their houses and the Ward Two Club and the Seville Council, Knights of Columbus. The priests and nuns of St. Colman's parish where he worships call on him again and again to serve as a model for their lectures to the neighborhood kids."

"Rocky Marciano," Sullivan concludes, "didn't just embody the American Way of Life. He was the American Dream. He was nothing but the eldest son of a poor Italian-American shoemaker. But this was America. And America gave a young boy like Rocco Marchegiano the chance to gain a better life."

Shortly after Dwight Eisenhower was sworn into office, he invited Marciano to a White House luncheon attended by a select group of sports luminaries. Joe DiMaggio, Ben Hogan, and Ty Cobb were among the invitees.

"So you're the heavyweight champion of the world," the president said when he and Marciano were introduced.

"Yes, sir."

"Somehow I thought you'd be bigger."

"No, sir," Marciano responded.

On May 15, 1953, the new champion defended his title for the first time in a rematch against Jersey Joe Walcott. At that point in the long history of boxing, no man had ever lost and then regained the heavyweight crown. The bout was contested in Chicago. Marciano was a 3-to-1 favorite.

Marciano knocked Walcott down in the first round.

"It wasn't a crashing knockdown, the kind that leaves the recipient limp," A. J. Liebling wrote. "This appeared to be a sit-down-and-think-it-over knockdown, such as you might see in any barroom. Jersey Joe must have begun the process of ratiocination right away, but the conclusion at which he was arriving was not instantly apparent. Like a drowning man, he may have been reviewing his whole life, with a long pause on what had happened to him in Philadelphia. The dramatic significance of the fleeting seconds was lost upon the crowd because everybody present, with the possible exception of Mr. Walcott, took it for granted that he would get up within ten seconds."

Walcott chose not to rise from the canvas until ten-and-a-half seconds had elapsed.

"The bum quit," former heavyweight champion James Braddock said afterward.

"He sat there like an old man resting in the park on the grass," Jessie Abramson wrote.

"He should have gotten up," Marciano said. "I would have."

But there was an alternative explanation for Walcott's conduct. As Liebling later wrote, "Marciano is so good in his particular way that there should be a law against allowing him to fight return fights. He takes it out of them."

After a man fought Marciano, it was said, he was never the same.

On September 24, 1953, at the Polo Grounds in New York, Marciano put his championship on the line for the second time. The opponent was Roland LaStarza. Many thought there was unfinished business between them; that Marciano had, in fact, lost their first fight.

The champion added fuel to that fire, saying, "I still bump into people who think I lost. Why, I don't know. Beating LaStarza is the only thing I have to do before I'll be able to fully appreciate being world's champion. Until I do that, I won't be satisfied."

Marciano was a 6-to-1 favorite. LaStarza built up an early lead on points. Marciano fought clumsily and outside the rules. In the second round, he was warned by referee Ruby Goldstein for head butting. In round three, he hit on the break and after the bell. Rounds six and seven were punctuated by low blows. Then, in round seven, Marciano landed a brutal body shot above the belt and the tide turned.

An ugly beat down followed. "By the ninth round," Sullivan recounts, "LaStarza's face was lopsided and he was spitting blood. Each Marciano punch would spray droplets of LaStarza's blood onto press row."

The referee stopped the carnage in the eleventh round.

"He's definitely a better fighter than when I fought him before," LaStarza said afterward. "Five thousand percent better."

Charley Goldman seconded that notion, saying, "Rocky has improved in each fight. He now does by instinct what he used to do by memory."

Still, there was considerable room for progress. Marciano remained crude and awkward. He was frequently out-boxed for large segments of a fight. "His footwork," Whitney Martin of the Associated Press wrote, "consists of moving forward in a direct line to a point where he is within cannonading range."

Budd Schulberg called Marciano "the master of no defense, who moves in swinging punches like all the club fighters of all time." Jimmy Cannon opined that he had "the style of an avalanche."

Also, Marciano's penchant for fouling might have been an unintended accompaniment to his wild brawling style; but it violated the rules.

On the other side of the coin; Marciano had incredible stamina. He was rarely hurt. He punched with awesome power. And as a fight wore on, he seemed to grow stronger.

"He keeps swinging that pick with all his might," Red Smith wrote. "Chopping at the hard pavement without apparent effect, until all of a sudden the asphalt crumbles and there is only the soft earth underneath."

"It's not like football," Freddie Brown said philosophically. "Rocky never gives you the ball."

"Rocky is not in there to outpoint anybody with an exhibition of boxing skill," Ed Fitzgerald observed. "He is a primitive fighter who stalks his prey until he can belt him with that frightening right-hand crusher. He is one of the easiest fighters in the ring to hit. You can, as with an enraged grizzly bear, slow him down and make him shake his head if you hit him hard enough to wound him. But you can't make him back up. Slowly, relentlessly, ruthlessly, he moves in on you. Sooner or later, he clubs you down."

Donald Turner journeyed to New York in the early-1960s as a fighter and later became a trainer. The list of fighters that he has worked with is headed by Larry Holmes and Evander Holyfield. "My first professional trainer was Charley Goldman," Turner recalls. "We used to sit and talk about Rocky Marciano all the time."

"Marciano," Turner expounds, "had as much determination as any fighter ever. There was no quit in him at all. He knew what his limitations were and he made up for them by working as hard as any fighter who ever lived. Once a boxer starts cheating in training, he can't be great. Marciano never cheated in training. Out of the thousand or so days that he was champion, I'll bet he was in the gym and working hard for all but a hundred-and-fifty of them. If there was a problem in training camp, it was that they had trouble getting sparring partners because Marciano hit them so hard. He wouldn't even take a phone call during the ten days before a fight. That's how focused his mind was. In terms of trying his hardest and working as hard as he could, Marciano did everything the way it was supposed to be done. Then the fight would start and his strategy was, 'I'm coming. I'm throwing. I'm going to hit you with everything I can, anytime I can, anywhere I can.' He'd wear you down. Fight after fight, he'd be getting out-boxed and maybe beaten up. Then, all of a sudden, the other guy was stretched out on the canvas."

"Marciano wasn't a good technical fighter," adds Emanuel Steward. "But he was a smart fighter in a crude sort of way. The more I watched films of his fights, the more I realized how he maximized the limited skills that he had. He'd crouch down low; so once he got inside, it was hard to get a clean shot at him. You had to drop your hands to hit him, which meant he could come over the top with that overhand right. And there was another move, where he'd come in like he was going to clinch and you'd relax a bit and he'd hit you with a short left hook to the chin."
"He wasn't that big," Steward continues. "He wasn't that coordinated. He wasn't that fast. His balance was poor. He had short arms. He cut easily. But he was always in incredible condition. He was incredibly strong physically. He'd punch, take whatever punches you threw at him, and punch some more."
Bob Girard handed Marciano his fourth amateur defeat (the last time that Marciano lost a fight). "I beat him because it was three rounds," Girard said years later. "There were a hundred guys who might have stayed three rounds with him. But no man in the world was going to beat Rocky in fifteen rounds. Every time he hit you, you saw a flash of light. You either grabbed him or you moved back. Because if he hit you twice, you were gone."
"He hits you with something that looks like a little tap to the crowd," cornerman Freddie Brown noted. "But the guy who gets hit shakes right down to his legs."
"He must be good," Charley Goldman concluded. "He always beats the other guy."
On July 17, 1954, Marciano returned to the ring to fight Ezzard Charles.
Charles was one of the great light-heavyweights of all time. He'd succeeded Joe Louis as heavyweight champion by beating Jersey Joe Walcott for the vacant title in 1949. Two years later, Walcott returned the favor. Ezzard was only thirty-two years old, but his body bore the wear and tear of ninety-four professional fights.
There were 47,000 fans in Yankee Stadium. Marciano was a 7-to-2 favorite. Charles controlled the early stages of the fight, bloodying the champion's nose in the first round and opening an ugly gash on Marciano's left eyelid in the fourth stanza. The cut bled throughout the night despite Freddie Brown's efforts. Afterward, Brown admitted, "With a cut like that, you got to be nervous."
In round five, Marciano got his rhythm going and landed some good shots, including one after the bell.
"In the sixth round," Liebling reported, "Charles began to go slack like every other fighter after Marciano's punches have begun to tell. They have a cumulative effect that asserts itself."
Charles regained the advantage in rounds seven and eight. "He fought savagely," Liebling wrote. "The bounce and snap had left him for good now, but his determination was unbelievable. His face, rather narrow with a high curved nose, changed in shape to a squatty rectangle as we watched. It was as though he had run into a nest of wild bees."
Rounds nine through fifteen belonged to the champion. Sullivan recounts, "Marciano's punches were not only rocking Charles, but were also beginning to make a definite impact on the challenger's appearance. His right eye gradually closed and his lower lip became split and swollen. More strikingly, a lump the size on egg suddenly appeared on the left side of Charles's jaw."
The challenger was now also having trouble breathing because, in the eighth or ninth round, Marciano had hit him in the Adam's apple.
Marciano won a unanimous decision. "Rocky numbs you all over," Charles said afterward. "Wherever he hits you, he hurts you."
The fight was good enough to warrant a rematch. They met again at Yankee Stadium on September 17, 1954. This time, Marciano was a 6-to-1 favorite. He dominated the early stages of the bout and put Charles on the canvas in round two. After that, the challenger fought with extreme caution. Marciano's most effective blows were after the bell and low.
In round six, everything changed. Marciano came out of a clinch with a gash on his left nostril that split his nose and cut to the bone. Charles would say that the wound came from a punch. Marciano claimed that it had been caused by an elbow. Films of the fight are inconclusive as to the cause.
Either way, blood was spurting.
"I knew something was wrong," Marciano said afterward, "because the blood was running like from a faucet."
Nothing Freddie Brown did in the corner after the round could stop the blood from flowing. "He looked like he's got two noses, both bleeding," the cutman said afterward. "I never saw a cut like that before."
Marciano continued to press the action and land the more punishing blows. But time was short. The damage to his nose could easily force stoppage of the fight. He was in greater danger of losing than ever before in his ring career.
In round eight, he knocked Charles out.
"Rocky was great when he had to be great," Al Weill said.
Eight months later, Marciano journeyed to San Francisco to fight England's Don Cockell.
Cockell looked like the Pillsbury Doughboy. In reality, he was a fat light-heavyweight who'd been knocked out five times by opponents far less imposing than Marciano.
The British public was intrigued by the fight. Liebling described the challenger as "a fat man whose gift for public suffering has enlisted the sympathy of a sentimental people." Sullivan puts the matter in perspective, noting that the bout "was widely cast as a test run for Marciano's nose."
Only 15,000 fans were in attendance at Kezar Stadium. Cockell played the role of a human punching bag with valor. Marciano looked clumsy and amateurish. "That was a very bad fight," he admitted afterward. "I wasn't sharp and I knew it."
Marciano also fouled repeatedly, head-butting and hitting Cockell below the belt and after the bell several times. More flagrantly, he hit the challenger when the Brit was on one knee after being knocked down in the ninth and final round.
"On my wife and baby," Marciano pledged when the fight was over, "I don't do one of those things knowing I do it."
"He was a bit deaf when it came to hearing a bell," Cockell said.
Meanwhile, Marciano wasn't making the money he wanted to make. Three decades earlier, Tex Rickard and Jack Dempsey had ushered in an era of million-dollar gates. Dempsey had been paid accordingly. But Marciano's biggest purse had been US$250,000 (for his first fight against Ezzard Charles). For the Cockell bout, the amount was $115,000. None of his championship encounters had captured the public imagination.
That changed on September 21, 1955, when Marciano fought Archie Moore.
Moore was a great light-heavyweight, who'd been denied an opportunity to fight for the title until December 17, 1952, when, at age 39, he was given a shot at Joey Maxim. He made the most of it, beating Maxim and successfully defending his crown four times. Then, on May 2, 1955, he stepped up in weight and decisioned Nino Valdes, who was the top-ranked heavyweight contender at the time.
That set the stage for Marciano vs. Moore. They met at Yankee Stadium on September 21, 1955; three months shy of Moore's forty-second birthday. The challenger weighed 188 pounds; only four ounces less than the champion.
Largely because of Moore's loquacious personality, a crowd of 61,574 was on hand. Former heavyweight champions Jack Dempsey, Gene Tunney, Joe Louis, James Braddock, and Max Baer were at ringside. Four hundred thousand paying customers watched via closed-circuit in 133 venues across the country. Marciano was an 18-to-5 favorite. His purse would be US$470,997 ($3,770,000 in today's dollars).
Marciano began the action wild as always. In round two, his wildness almost cost him the fight. A perfectly-timed right hand counter put him on the canvas for only the second time in his career. He rose quickly, but was on shaky legs. "I was dazed," he admitted afterward.
Then, instead of letting Moore go for the kill, referee Harry Kessler erroneously began a mandatory eight-count, forgetting that the rule was not in effect for title fights. That gave Marciano extra time to recover. Years later, Moore would say of Kessler and that moment, "He knows I hate him. I hate him to this day."
Marciano survived the second round. Then, inexorably, he wore Moore down.
"Rocky didn't know enough boxing to know what a feint was," Moore said afterward. "He never tried to outguess you. He just kept trying to knock your brains out. If he missed you with one punch, he just threw another. I felt like someone was beating all over my body with a blackjack or hitting me with rocks. I had the braggadocio and the skill and the guts, but that wasn't enough. Marciano beat me down."
Marciano put Moore on the canvas twice in the sixth round and hit him after the bell for good measure. "That was unintentional," the challenger said afterward. "And I hit him back unintentionally."
In round eight, Moore was knocked down for the third time but was saved by the bell. In the ninth round, he was counted out.
"The biggest fight in years was one of the best in years," Red Smith wrote.
"A lot of colored guys think Marciano couldn't fight," Moore told Donald Turner several years later. "But that's not a fact. It's a prejudice."
After Marciano-Moore, the public's appreciation of the champion grew. Then, to the surprise of the boxing world, on April 27, 1956, he announced his retirement from boxing.
Marciano was only thirty-two years old and had fought as a pro for less than eight years. But he'd trained long and hard for each of his fights and taken incredible punishment.
"I am retiring because of my wife and baby," Marciano said in his retirement statement. "I am comfortably fixed and I am not afraid of the future."
Naturally, there was skepticism. But Marciano had an answer for the skeptics. "I'm going to profit by other people's mistakes," he said. "If Joe Louis couldn't make a successful comeback, I'm not going to attempt it."
Marciano's retirement coincided with the explosion of other spectator sports in the United States. In 1950, when he fought on television for the first time, there were 3,100,000 TV sets in America. By the time he faced Archie Moore, there were 32,000,000 sets and the medium was becoming adept at conveying the magic of sports.
After leaving the ring, Marciano made some television appearances and had a few product endorsements. He was constantly getting involved in business deals; a bowling alley, a restaurant, a sausage company, a spaghetti restaurant chain. Some were profitable. Most lost money.
In 1959, after Ingemar Johansson dethroned Floyd Patterson, there was talk of a comeback fight against the new heavyweight king. But Marciano nixed those rumors, saying, "I don't want to be remembered as a beaten champion."
Throughout his career, Marciano had managed to steer clear of any visible mob involvement. That was important to rebutting the underside of the Italian-American stereotype and keeping him clean in the public eye. It's likely that Frankie Carbo had a piece of Marciano by virtue of their mutual tie to Al Weill. But that was never part of the public record.
One of Marciano's friends, Ed Napoli, said after the fighter's death that Rocky had been offered a lucrative inducement to throw the Cockell fight, in which the Brit was a 10-to-1 underdog. According to Napoli, Marciano told the mobster who made the offer, "You disgust me. I'm ashamed that you're Italian. Get out of here and don't come back."
But after Marciano retired, he became openly friendly with several mob figures, including Carbo.
"He saw Carbo as having class," Sullivan writes. "Someone who knew how to dress, how to live, how to move, how to command respect, and how to treat other Italians. Moreover, Marciano liked the aura of danger and excitement that surrounded Carbo."
William Nack elaborates on that theme, writing, "As celebrated a folk hero as he was to the workaday Italian-American, Marciano found himself to be an even more-respected figure among members of the underworld; a life-sized icon whose company and favor were sought by hoodlums wherever he went. Over the years, Marciano kissed the cheeks of many of the major crime family bosses. [But] in spite of the social contact he had with hoodlums, he feared the violence and notoriety of the underworld and made it a point not to get involved in their businesses."
The exception to that rule, according to Nack, came when Marciano loaned $100,000 to Pete DiGravio (a loan shark linked to the Cleveland mob). From Rocky's point of view, he was merely investing in a business. He wasn't involved in the street end of things.
Still, the association with the mob was there.
Frank Saccone (Marciano's longtime accountant) later recalled, "We'd go to these elaborate restaurants and sit with fifteen, twenty underworld characters. I was a naïve accountant from Brockton. I thought they were just friends of Rocky's. Rocky finally told me who they were. They couldn't do enough for him. They'd say to him, 'I got a beautiful tailor. Let me take you down there and get you some suits.' They'd buy him six suits, three dozen shirts. He loved it and they loved him."
In a similar vein, Richie Paterniti (a friend of Marciano's during the retirement years) told Nack, "Wherever we went, there were mob guys. They loved him because he represented what mob guys really want to be. He was Italian and he beat up every guy he faced. He exuded power, an air of authority. They all wanted to be with him. They kissed his ass."
Nack further recounts, "When Vito Genovese was dying, he put out the word that he wanted Marciano to visit him in prison. Rocky went to Leavenworth to show Genovese films of his fights."
The picture that Nack paints of Marciano in retirement isn't pretty.
Before Marciano turned pro, he was dating Barbara Cousins, six years his junior and the daughter of a Brockton policeman. The press charitably referred to her as tall, blonde, and statuesque. They were married on December 30, 1950, over the objection of Weill, who feared that wedlock would interfere with Marciano's training and, more importantly, his control over the fighter. On December 6, 1952, Mary Anne Marciano was born. Thereafter, Barbara suffered five miscarriages.
Marciano was not a "family man" where his wife and daughter were concerned. As a fighter, he was away from home more often than his profession demanded of him. Subsequent to his leaving the ring, he and Barbara moved to Florida, but he was rarely there. The marriage had become an empty shell.
"There were women for Marciano everywhere he went after his retirement," Nack writes. "That a woman be waiting for him was as requisite for his appearance as the folded $100 bills."
Dominic Santarelli (a longtime social acquaintance and fringe underworld figure) later recalled, "If Rocky ever went to some place and there was not a girl waiting for him, he'd never come back. He never had an affair. I don't think he had sex with the same girl twice. Any girls he had sex with, you couldn't bring her to dinner no more. That's it. Get rid of her. He never wanted to see her again."
"Rock was insane about girls, all the time," Richie Paterniti remembered. "That's all he wanted to do. Rock had orgies and parties. We had girls every single day and night. I had a suitcase that I took all over, filled with vibrators and electric massagers and all kinds of creams and oils."
"He couldn't stand married life," Saccone told Nack. "He had no relationship with his wife."
In 1968, the Marcianos adopted an infant boy, Rocco Kevin, who bore a definite resemblance to his father. By then, Barbara had developed a serious drinking problem, smoked heavily, and was grossly overweight. She died of lung cancer in 1974.
Meanwhile, in retirement, Marciano became obsessed with money beyond the bounds of rational behavior.
Fighters fight for money. That's a given. After Marciano defeated Rex Layne in 1951, Al Weill observed, "Rocky is a poor Italian boy from a poor Italian family and he appreciates the buck more than almost anybody. He's only got two halfway decent purses so far, and it was like a tiger tasting blood."
Marciano himself said in 1955, "When you're the heavyweight champion, the money is the big thing you're going for because that's why you became a fighter in the first place. They're going to criticize you if you blow all your dough on fast living, and they're going to criticize you if you hold onto it. I'd rather keep the money and let them knock me that way."
Well and good.
But as he grew older, Marciano carried things too far. He had a pathological aversion to paying out. When he ate in restaurants (which was often), he did so only with friends or business associates who picked up the check or in places where he wouldn't be billed.
Fellow hall-of-fame fighter Willie Pep later recalled being at nightclub with Marciano. The people at the next table bought them several rounds of drinks, so Pep bought a round in return.
Marciano took Pep into the men's room and chewed him out. "Don't do that."
Pep protested, "Rocky; they've been buying us drinks all night."
"And they're going to keep buying," Marciano instructed. "You don't pay for anything when you're out with me. It makes me look bad if I don't buy a round."
Don Elbaum, who was friendly with Marciano during the retirement years, recalls, "I was in Cleveland one time when Rocky flew in as the guest of honor for a dinner. He arrived at the airport with no suitcase and wearing shorts. His explanation was that he'd run to catch the plane and they hadn't been able to load his luggage. So the organizers of the dinner had to buy him a suit to wear that night. I heard he did that a lot."
"Rocky also had a thing about paying for telephone calls," Elbaum continues. "He used slugs or a trip-wire that returned his money after he made a call from a pay phone. One time, I was in New York, staying at a hotel across the street from the old Madison Square Garden. I was going out for lunch when Rocky stopped me in the lobby and asked, 'Don; do you mind if I use your room to lie down for an hour? I'm really tired' I said it would be an honor and gave him the key. The next day, when I checked out, there was a twenty-five-dollar charge on my room bill for long-distance telephone calls. Twenty five dollars back then was a lot of money."
Marciano structured his life in retirement so that he paid for virtually nothing. There were free rooms, free meals, free transportation. "The whole object of his daily existence," Nack writes, "the reason for the network that moved and sustained him from place to place, was to get him from one sunset to the next without spending a dime."
One night, Marciano went to see Jimmy Durante perform in Las Vegas. Durante took to the stage and announced, "Ladies and gentlemen; in our audience tonight we have the undefeated heavyweight champion of the world – and America's guest – Rocky Marciano."
Marciano was not amused. Yet he constantly hustled for more. He was always traveling. And he was obsessed with cash.
There were times when Marciano would take half of what he was promised for a speaking engagement if the tender came by cash rather than check. Part of his motivation was tax evasion. He never declared income unless there was a paper trail. When IRS inquires came, Frank Saccone managed to have them transferred to the IRS office in Brockton.
"They loved Rocky there," Saccone later recalled. "It wasn't difficult to get rid of cases. He was a great charmer."
Marciano also had an irrational mistrust of banks. He hid large sums of money in curtain rods, light fixtures, toilets, and cities unknown. As much as two million dollars by some estimates. After his death, as a matter of record, none of it was found.
On August 31, 1969, one day shy of what would have been his forty-sixth birthday, Marciano boarded a small plane with the pilot and one other passenger for a flight from Chicago to a speaking engagement in Des Moines, Iowa. It was a free flight, courtesy of the pilot, which would enable Marciano to cash in his original plane ticket.
The plane crashed in a field near Newton, Iowa, killing all three men onboard.
Evaluating Marciano as a fighter through the prism of history elicits a wide range of responses. Some experts consider him great. Top Rank's Hall of Fame matchmaker Bruce Trampler takes a contrary view.
"Look at a tape of Marciano," Trampler says. "Then ask yourself what you'd do if he was offered to you now as an opponent for a halfway-decent heavyweight. I'd take him in a minute for one of our guys. Sure, he didn't duck anyone. There was no one for him to duck. I think he's the most overrated fighter of all time."
The great fighters who Marciano beat were getting on in years when he fought them. Joe Louis was thirty-seven. Jersey Joe Walcott was thirty-eight. Ezzard Charles was only two years older than Marciano, but had the wear and tear of close to a hundred fights on him. Archie Moore was forty-one and had answered the bell for round one almost two hundred times.
Add to that the fact that, too often, Marciano's rough brawling style bordered on dirty.
And he would be too small to compete in the heavyweight division today.
That said; all a fighter can be is the best of his era. And Marciano could beat any fighter of his time. His uninterrupted reign as heavyweight champion of the world lasted for forty-three months. Over the past eighty years, only Joe Louis, Muhammad Ali, and Larry Holmes exceeded that standard.
Getting hit and losing rounds never discouraged Marciano. No one ever broke his will. He was as tough in the thirteenth round as he was in the first. Time and again, he dug deep within himself and found what was necessary to win. As much as any fighter ever, he got the maximum out of what he had. In the ring, his character always stood up under pressure.
As for Marciano outside the ring; Jerry Izenberg sums up with the thought, "To be a fighter - any fighter, let alone the kind of fighter that Marciano was – you have to be a little nuts. He was a strange person but not a bad person. In a lot of ways, he was a very decent guy."
One area where Marciano's decency was on display involved the issue of race. During his career, segregation was law in much of the land. Indeed, when Marciano entered the ring for his first professional fight, Jackie Robinson had yet to play in an official major league baseball game.
Yet "throughout his career," Sullivan notes, "Marciano avoided playing on racial issues. He never made a snide comment about the color of his opponent's skin, nor did he ever subtly try to raise the specter of a race conflict."
The key to Marciano's legacy, of course, is that he retired as an active fighter while he was the undefeated heavyweight champion of the world and stayed retired.
In other sports, magic numbers come and go. In baseball . . . 60 . . . 714 . . . 2,130 . . . 4,191 . . . are all gone. It's the way of the world. Standards for immortality change.
But a half-century after Rocky Marciano's retirement from boxing, his record of accomplishment still stands. He entered the ring forty-nine times as a professional fighter and emerged victorious forty-nine times.
Boxing's magic numbers remain "49" and "0".
Thomas Hauser
can be reached by email at thauser@rcn.com. His most recent book ("
Waiting For Carver Boyd
") was published last month by JR Books. Hauser describes
Waiting for Carver Boyd
as "the best pure boxing writing I've ever done."
* Read "Rocky Marciano Revisited – Part One" by Thomas Hauser - CLICK HERE!
____________________________________________________________
August 31, 1969 Death of Rocky Marciano, former heavyweight champ, dies in a plane crash,
Cessna 172, in Newton, Iowa
at 45
"
Rocky Marciano (September 1, 1923 - August 31, 1969)
Born Rocco Francis Marchegiano, was the heavyweight champion
of the world from 1952 to 1956."
Iowa History Special Project ~ Biography of Rocco Francis Marchegiano (a.k.a. Rocky Marciano)
Rocco Francis Marchegiano (a.k.a. Rocky Marciano)
September 1, 1923 – August 31, 1969
Rocky MARCIANO was born Rocco Francis MARCHEGIANO on September 1, 1923 at Brockton, Massachusetts, the son of Italian immigrants Pierino and Pasqualina (PICCIUTO) MARCHEGINAO. Pierino was a shoe factory worker. Rocky was a professional boxer, Heavyweight Champion of the World (1952-1956), one of the greatest fighters in the history of boxing. The press dubbed him "The Brockton Blockbuster" and "The Rock From Brockton."
When MARCIANO was eighteen-months-old, he came down with pneumonia and almost died.
During his youth, MARCIANO played baseball and worked out on homemade weightlifting equipment. He devised a stuffed mail bag that hung from a tree in the family's backyard, using it as a heavy bag. MARCIANO attended Brockton High School where he was on both the football and baseball team. When he joined a church baseball league, he was cut from the high school team due to a violation of the school's rules forbidding players from joining other teams. MARCIANO dropped out of school after the 10th grade.
MARCIANO found work as a chute man on delivery trucks for Brockton Ice and Coal Company. He also worked as a ditch digger and as a shoemaker. He resided for a while in Hanson, Massachusetts; the house still stands on Main Street.
MARCIANO was drafted into the U.S. Army in March of 1943 for a term of two years. He helped ferry supplies across the English Channel to Normandy from Swansea, Wales, where he was stationed. He completed his enlistment at Fort Lewis, Washington, in March of 1946.
While awaiting his discharge from the Army, MACIANO won the 1946 amateur armed forces boxing tournament, representing the Army. Although MARCIANO was quite a bit shorter than his opponents, he possessed a fervent desire and a devastating right hand.
MARCIANO turned pro when he stepped into the ring on March 17, 1947 to knock out Lee EPPERSON in three rounds. He returned to an amateur status, and fought in the Golden Gloves All-East Championship of March 1948, beaten by Coley WALLACE. MARCIANO competed in the AAU Olympic tryouts in the Boston Garden during the spring of 1948. He knocked out George McINNIS but because he hurt his hands during the bout, MARCIANO was forced to withdraw from the tournament. This was his last amateur bout.
MARCIANO tried out for the Fayetteville Cubs (North Carolina), the farm team of the Chicago Cubs. He lasted three weeks before he was cut.
Returning to Brockton, MARCIANO began training with a longtime friend, Allie COLOMBO. Al WEILL was MARCIANO'S manager; Charley GOLDMAN was his trainer and teacher.
On July 12, 1948, MARCIANO once again entered into the professional boxing world. That night he defeated Harry BILIZARIAN. He won his first sixteen bouts by knockout, all before the fifth round, and nine before the first round was over.
The ring announcer at Providence, Rhode Island could not pronounce MARICANO'S last name. Al WEILL suggested changing his name to "Rocky Mack" which MARCIANO promptly rejected. The more Italian-sounding "MARCIANO" was adopted.
MARCIANO steadily moved up through the ranks to defeat favored and well-established boxers like Roland LASTARZA, Don MOGARD, Ted LOWRY and the great Joe LOUIS.
In 1952, MARCIANO challenged Jersey Joe WALCOTT for the Heavyweight Championship title. A veteran of the ring, WALCOTT knocked MARCIANO down in the first round and continued to pummel him for 12 rounds. MARCIANO closed in on WALCOTT in the 13th round and delivered a power-house right hand. This put WALCOTT down for the count. The title was now MARCIANO'S.
As the champion, MARCIANO fought Don COCKELL, Archie MOORE, and had a re-match with LASTARZA.
MARCIANO faced off with Ezzard CHARLES in an epic fight. MARCIANO'S nose was horribly split. The referee gave them one more decision round. Showing true grit and determination, MARCIANO knocked out CHARLES in the 9th decision round.
MARCIANO retired from the ring after a bout against Archie MOORE on September 21, 1955. MARCIANO was knocked down for two seconds but got up to knock MOORE out in the 9th round. MARCIANO retired with a record of 49-0 with 43 KO's. He is the only Heavyweight Champion to retire undefeated. During his boxing career, MARCIANO earned more than $4 million.
MARCIANO entered into the world of television, appearing in episodes of Combat! and Masquerade. He hosted a weekly boxing program in 1961. For a brief period, he worked as a troubleshooting referee in wrestling (MARCIANO was a good wrestler in high school). He continued as a referee and boxing commentator in boxing matches for many years. He was also active in business as a partner and vice president of Papa Luigi Spaghetti Dens, a San Francisco based franchise company formed by Joe KEARNS and James BRALY.
MARCIANO moved to Florida and invested in restaurants, bought and sold boats, and dealt in real estate and construction and Florida wetlands - mostly financial disasters. But MARCIANO remained cheerful and genial. Most of the money he gave to friends was seldom repaid. MARCIANO never said a word about it, though.
MARCIANO was in Chicago on August 31, 1960. It was the day before his 46th birthday. MARCIANO had been a dinner guest of STP Oil president Andy GRANTELLI.
A Cessna 172 was waiting to take MARCIANO to Des Moines that night. MARCIANO was scheduled to give a speech in support of a friend's son. There was a surprise birthday party waiting for him. MARCIANO had planned to return his Fort Lauderdale home early the following morning to celebrate his birthday with his wife.
Traveling with MARCIANO was 22-year-old Frankie FARRELL. FARRELL'S father Lew had known MARCIANO since childhood. MARCIANO took the front seat beside the pilot; FARRELL took a backseat.
At 6:00 p.m., the 1967 green and white Cessna 172 [N3149X] took of from Midway Airport in Chicago.
Pilot Glenn BELZ had only 231 hours of total flying time, and 35 of those hours consisted of night-time flight. He had obtained his pilot's license in February of 1968.
The weather report warned of stormy Iowa skies with a low ceiling. BELZ was not instrument-rated. Inexperienced and perhaps both frightened and somewhat confused by poor visibility, BELZ attempted to drop below the low hanging clouds at 8:50 p.m. to find the runway of Newton's small airport located outside of city limits.
Some accounts state that BELZ decided to land in Newton rather than Des Moines to avoid losing his pilot's license due to flying in conditions that were beyond his experience. Reportedly, the plane was also low on fuel.
BELZ radioed the Des Moines Radar Approach Control. He was unable to see Newton's Airport and requested radar assistance. Moments later, around 9:00 p.m., BELZ told Des Moines that he had broken out of the clouds and was preparing to land.
The plane emerged from the clouds two miles short of the runaway. Immediately, BELZ realized he was too close to the ground. A witness reported that it appeared BELZ attempted to gain altitude at the last moment. But it was too late.
The plane was less than 100 feet off the ground when it entered into a rolling bank of clouds. It reappeared once again, then rose and disappeared into the clouds.
Mrs. Coleen SWARTS (SCHWARTZ), a witness to the accident, stated she had seen the lights of the plane as it passed overhead. It appeared to have reversed its westward course and "seemed to be swinging toward the airport." She lost sight of the plane as it flew behind a grove, but she could hear it. Then she said the plane's engine stopped, then "kind of sputtered again. Then I heard this awful thud and I knew it had crashed. I hope I never hear anything like it again. I never dreamed anybody like Rocky Marciano was in it."
The plane struck a lone oak tree in the center of a cornfield. It hit the ground and slid for approximately 235 feet, coming to a tangled stop near a drainage ditch on the Henry EILANDER farm. One wing had been sheared off when it hit the tree. Pieces of the plane, flight maps and weather charts were found some 250 feet from the oak tree to where the fuselage came to rest.
Jasper County Medical Examiner Dr. John MAUGHAN concluded that MARCIANO, FARRELL, and BELZ were all killed instantly upon impact. BELZ and FARRELL were thrown more than 30 feet with the plane's engine coming to rest on BELZ'S chest. MARCIANO was pinned beneath the main wreckage of the plane. A segment of the debris had pierced his skull.
Cedar Rapids Gazette, Cedar Rapids, Iowa
September 1, 1960
MARCIANO KILLED IN CRASH.
2 IOWANS ALSO DIE IN PLANE.
Newton -- Rocky MARCIANO, retired undefeated heavyweight champion, died Sunday night when a light plane crashed in a pasture near here. He would have been 46 today.
The retired knockout king was flying from Chicago to Des Moines, with two companions who also were killed when the plane plunged through a low overcast, struck a tree and smashed to earth on a farm near this central Iowa town.
Birthday Party.
Friends said he had been en route to a birthday party for him at a Des Moines steak house.
Jasper County Sheriff Darrell HURLEY said MARCIANO was found dead in the fuselage of the single-engine Cessna. The bodies of pilot Glenn BELZ , 37, and Frank FARRELL, 23, both of Des Moines, were found amid wreckage that was scattered for 500 feet.
A flight service official at Des Moines said the pilot told him about 9 p.m. he intended to land at Newton but gave no indication of trouble. HURLEY said the crash apparently came shortly afterward.
The bodies were taken to a Des Moines funeral home.
Engine Quit.
The plane was a single engine Cessna 172, 1967 model, authorities said. Jasper County Sheriff Darrell HURLEY said "The only thing we have found out so far was that the engine conked out and they went down."
The crash occurred on the Henry EILANDER farm, 2 miles south of Newton.
There were indications the four-seat plane may have encountered mechanical trouble or run low on fuel and that the pilot was trying to make it to the Newton airport, about 1 1/2 miles from the crash scene.
Federal Aviation Administration officials, who quickly sealed off the site, refused to speculate about the cause.
Iowa Farmwife Hears Plane Engine Sputter.
Newton (AP) -- A farm woman said she heard the engine of the plane carrying former heavyweight champion Rocky MARCIANO to his death sputter, stop, sputter again and then quit before it crashed south of here Sunday night.
Mrs. Floyd SCHWARTZ, who lives on the farm next to where the Cessna 172 single-engine plane was strewn into a creek bed, said she then called Newton police, who summoned sheriff's officers.
First on the scene was deputy Sheriff Jim VeWERE, who with the aid of other deputies found the bodies of MARCIANO, pilot Glenn BELZ, 37, and passenger Frank FARRELL, 23.
Friends of FARRELL said he and BELZ, both of Des Moines, had flown to Chicago to pick up MARCIANO for a birthday dinner party to be given in his honor Sunday night at the Charcoal room in Des Moines.
The plane slammed to the ground in a wooded area on a pasture at the Henry EILANDER farm, where no one was home. The impact sheared wings from the craft and tore the motor from the fuselage.
"It was so dark out there and so muddy you couldn't see anything, "Sheriff Darrell HURLEY said his deputies reported. "It took a while to identify them," HURLEY said.
A. L. CRAWFORD, chief of the Kansas City, Mo., field office for the National Transportation Safety Board headed the investigation, and Federal Aviation Administration officials ordered autopsies.
Bodies of the three were taken first to the Toland-Wallace funeral home in Newton and later taken to the Dunn funeral home in Des Moines.
BELZ, president of a construction company in Des Moines, is survived by his wife, La Ray (HANAWALT) BELZ, and four children [Kevin, Kristy, ____, and Kendall].
Friends said FARRELL had known MARCIANO since FARRELL'S boyhood. FARRELL, a baseball and basketball star while in high school at Des Moines Dowling, was the son of the late Lew (a.k.a. Louis Thomas FRATTO) FARRELL, a Des Moines beer distributor and former boxer [Allegedly, Lew had mob ties.]
After an investigation, The National Transportation Safety Board concluded, "The pilot attempted operation exceeding his experience and ability level, continued visual flight rules under adverse weather conditions, and experienced spatial disorientation in the last moments of the flight."
MARCIANO died intestate. He was survived by Barbara (COUSENS), his wife of 19 years, and their two children, Rocco Kevin and Mary Anne.
Rocky MARCIANO was interred at Forest Lawn Memorial Gardens Central, Fort Lauderdale, Broward County, Florida. Barbara MARCIANO died five years later at the age of 46 years, and was entombed next to Rocky. MARCIANO'S father died in March of 1972; his mother died early in January of 1986.
The Super Fight: MARCIANO vs. ALI
On January 20, 1970, five months after Rocky's death, the fantasy film The Super Fight: MARCIANO vs. ALI opened to packed audiences at Loew's and RKO theaters around America.
ALI, known as Cassius CLAY at the time, had been stripped of his Heavyweight Championship title in 1968 for refusing to be inducted into the U.S. Army. He participated in computerized bouts. An electronic fight eliminated ALI in the quarterfinals to Jim JEFFRIES. ALI sued, seeking $1 million in damaged for defamation of his reputation. The suit was settled in court for $1. Part of the settlement was to produce a computerized bout between ALI and MARCIANO with a computer-written script. ALI signed the contract, stating that if he should 'lose' to MARCIANO he would not sue the promoters ever again for loss of his image and reputation.
The film was produced in the summer of 1969. MARCIANO lost 50 pounds and wore a toupee for the cameras. ALI complained that it was supposed to be a fantasy film; he shouldn't be injured. As a result, ALI was given an addition $2,000 for his complaints. After filming for over 8 hours of sparring, filming wrapped up early in August of 1969.
The film grossed $5 million domestically. In the simulation, MARCIANO knocked out Muhammad ALI (Cassius CLAY) a minute into the 13th round. ALI, after seeing the film, said, "That computer was made in Alabama." The film was shown only in 1970, never to be seen again. All of the prints were to be destroyed, except for one. It is believed that some of the prints were saved and shown on a "hush-hush" basis in several select theatres. ABC'S World Wide Sports showed some clips from the film. In 2005, a DVD was produced from a remaining print.
21 years after his death, Rock was inducted into the International Boxing Hall of Fame in 1990.
Ring Magazine poll of 40 boxing experts in December of 1962 rated MARCIANO as #8 of the greatest Heavyweights of all time. The magazine ranked MARCIANO was the 6th greatest Heavyweight Champions ever in 1998. MARCIANO was knocked down only twice in his professional career. The first during his championship fight against Jersey Joe WALCOTT. The second in a bout against Archie MOORE. He was named Fighter of the Year by Ring three times, and was inducted into the U.S. Boxing Hall of Fame in 1959, and the International Boxing Hall of Fame. MARCIANO has been honored with two bronze statues; one in Brockton, the other in his father's birthplace, Ripa Teatina, Italy.
READ MORE ABOUT IT:
Lew FARRELL (a.k.a. Louis FRATTO) biography
SOURCES:
en.wikipedia.org/wiki/Rocky_Marciano
check-six.com/Crash_Sites/MarcianoCessna.htm

Compilation by Sharon R. Becker, January of 2012
The AAIB
He died before his time, the victim of an airplane crash on Aug. 31, 1969, as the Grim Reaper wiped out his entire fistic `Family´, second Allie Colombo (Jan 6, 1969), trainer Charley Goldman (Nov. 11, 1968) and manager Al Weill (Oct. 22, 1969) in less than one year.
________________________________________________
It is inarguable that the deaths of Charley Goldman/Rocky Marciano left the vacancy in people's attention open to Angelo Dundee/(Cassius Clay) Muhammad Ali especially as promoted by 'the mouth that roared' Howard Cosell. This had a very particular impact in the Gambling World and their various confreres - including any laundering activities of theirs, which had a huge vested interest in this. In no way should this be understood as reflecting upon the personal integrity of Rocky Marciano or Muhammad Ali.
As in the below, it is clear that from the history of each fighter in the ring, that Dundee had many times prepared Ali for the fight he never had in person as a real title fight – with Marciano.
Muhammad Ali Vs Rocky Marciano "The Super Fight" N.Y.1969. (FULL FILM)
`The Super Fight` was a fictional 1969 boxing match between Muhammad Ali and Rocky Marciano. At the time, Ali and Marciano were the only undefeated heavyweight champions in history and fans often debated who would win had they met in their primes. Ali and Marciano were filmed acting out every possible scenario in a fight and the result was then determined using probability formulas entered into a computer. The final fight was only shown once in selected cinemas around the world and later released as a DVD.

In 1967, radio producer Murray Woroner had the idea of determining the all-time great heavyweight champion of the world in a series of fantasy fights between boxing champions of different eras. Woroner sent out a survey to 250 boxing experts and writers to help determine which boxers would be used in the imaginary fights. Woroner picked the first round of fantasy matches to be:

Jack Dempsey vs. Gentleman Jim Corbett
John L. Sullivan vs. Jim Braddock
Bob Fitzsimmons vs. Jack Sharkey
Jim Jeffries vs. Jersey Joe Walcott
Joe Louis vs. Jess Willard
Max Baer vs. Jack Johnson
Rocky Marciano vs. Gene Tunney
Muhammad Ali vs. Max Schmeling

Punch-by-punch details of the boxer's records during their prime were entered into an NCR 315 computer. Also their strengths, weaknesses, fighting styles and patterns and other factors and scenarios that the boxers could go through were converted into formulas. The NCR-315 with 20K of memory was supplied by SPS (Systems Programming Services), an independent service bureau in Miami Fla. The algorithms was supplied by an NCR mathematician, and programming was done in Fortran by an employee of SPS. Hank Meyer, President and salesman with a one other partner in SPS, was instrumental in setting this competition up, and contended at the time that it was his idea. The actual running of the software was done the night before each broadcast round of the 'computer championship' and took approximately 45 minutes to run, the ouptut was a formatted report containing a series of codes describing each punch. This was then written to magnetic tape, the tape was then manually transferred to a Univac 1005 and printed. This early form of "foot-powered" networking was referred to as sneakernet, the reason for doing this was cost, it was cheaper to print on a 1005 than the 315. This took place in early 1968; the NCR 315 was a state-of-the-art computer at the time.

The outcomes were then staged as radio plays with Woroner and radio announcer Guy LeBow as the commentators. The fantasy fights were broadcast worldwide. Even the boxers who were still alive at the time listened to the programs and some of them participated as commentators. After the series of elimination rounds, the final fight was between Dempsey and Marciano. Marciano defeated Dempsey and was considered to be the all-time greatest heavyweight champion by the computer. Woroner awarded the real Marciano a gold and diamond championship belt worth $10,000.

Ali was angered over his loss to Jim Jeffries in the fantasy fights and sued Woroner for $1 million for defamation of character. The lawsuit was settled when Woroner offered to pay Ali $10,000 to participate in a filmed version of his radio fantasy fights in which Ali would fight Marciano. Ali, who had been stripped of his heavyweight title and American boxing license three years prior, agreed on the condition that he would also receive a cut of the film's profits. Marciano also agreed to participate with a similar deal. The same formulas were used again and entered into the NCR 315. In 1969, filming began in a Miami studio.

Marciano, who had been retired for almost 13 years, lost over 50 pounds and wore a toupee in order to look as he did in his prime. Even for a "fake" fight, Marciano and Ali really looked forward to meeting each other and getting back in the ring.

The two fighters sparred for about 70 to 75 rounds, which were later spliced together according to the computer's findings which had not yet been determined. Every probable scenario was filmed. The final outcome would not be revealed to anyone until the release of the film. Braddock, Louis, Schmeling, Sharkey and Walcott also recorded commentary to be used in the film. Marciano died in a plane crash three weeks after filming wrapped [1].

On January 20, 1970, the fight was shown only once in 1500 theaters over closed-circuit television in the United States, Canada, and throughout Europe. It grossed $5 million. The computer had determined that Marciano would knock Ali out in the 13th round and the film was edited to present that outcome. All prints of the fight except one were supposed to be immediately destroyed, per Woroner's stipulation. However, many theaters played the show long after January 20th.

After watching the film, Ali reportedly said "That computer was made in Alabama," joking that Marciano was favored because he was white.